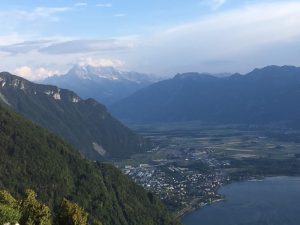 We've just concluded the forum on Addressing Europe's Unfinished Business (AEUB). Yesterday we heard Jo Berry, whose father was killed by an IRA bomb, tell how she met the man responsible for the bombing and how they have worked together to build peace. Two days after the bombing, she said, "I made a vow that I was not going to have an enemy. I wanted to understand the man who killed my father." Sixteen years later after Pat Magee was released from prison, Jo arranged to met him. He began by justifying the bombing as an act of war, but as the conversation went on it became more honest and emotional and Pat finally said, "I am sorry I killed your father." At that point, said Jo, "I felt my father became a human being, not a legitimate target."
Two Romanian organizers of the forum, Diana Damsa, founder of the Centre for Social Transformation, and Simona Torotcoi, a Roma activist, described their very different experiences growing up and their paths to a new understanding. "I was brought up to believe that Roma were dangerous and unreliable and that I should keep my distance. I felt superior." At a forum in India she was faced with the question, "Who are the people you are afraid of and why?" She was challenged to acknowledge the history of hundreds of years of slavery and discrimination suffered by the Roma people.
Simona grew up in a two-room house which was better than most of her relatives who lived in shacks near the rubbish dump. At school she felt ashamed of being Roma and tried to blend in with the majority children, but as she grew older she became a strong advocate for equality and justice. She and Diana now work closely together as partners.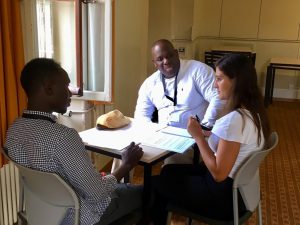 It is fascinating to learn how Richmond, Virginia, has played a small part in inspiring and encouraging the work of someone like Diana who spent several months in Richmond some years ago studying the Hope in the Ciites approach to dialogue and reconciliation. Yesterday I met with Olena Kashkarova from Ukraine who also interned in Richmond. She has developed dialogues with people of different views about Ukraine's history, and also with people of different political persuasions in the 2014 Euromaidan revolution; and she co-founded a network of of facilitators. She told me that her Richmond experience gave her the courage to do what she is now doing.
Earlier in the week we heard another remarkable story from Peter Sundin from Sweden who grew up in a racist family with Nazi traditions. "White power music was the only music played in our house." His mother worked as a cleaner and blamed foreigners "for taking our jobs." The family believed that the Holocaust was a fraud. As a young man he was jailed for taking part in a brutal assault on an immigrant. His transformation over five years was supported by a friendship  with a police officer who today is his colleague. He has cut ties with family and friends and says, "I learned that behind every opinion is a human being."
In the training track that Ebony Walden and I led there were several Roma participants as well as Ukranians, Swiss, French, Germans, a Sudanese immigrant and Muslims from various European countries.
Over three days we worked intensively on questions of history, identity, and narrative; we explored experiences of being part of dominant and non-dominant groups in our countries; and the participants developed dialogue questions around their key concerns and began to consider how to build teamwork with others.
Last night we were treated to a magnificent concert by two brilliant Romanian musicians. As the sun set over the mountains, five conference participants joined them in singing "The Whole Wide World's On Tiptoe, Waiting for Something New."