We arrived at the international conference center for Initiatives of Change in Caux, Switzerland on Saturday morning. Our room has a spectacular view over Lake Geneva. There are 181 delegates here from 32 countries, most of them young people, who have come to begin a three-year exploration of the link between personal and collective identities in Europe, the rise of populism and nationalism, the need to address collective trauma and build more cohesive societies.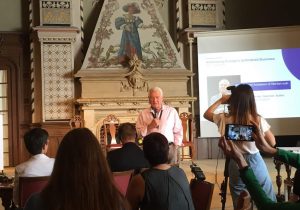 Among the participants are 11 young Muslims from several European countries who are part of a program called Learning to be a Peacemaker. One of them said, "Within our communities we have sometimes forgotten the essence of our religion; and in the wider society there is often misunderstanding."
Tatjana Peric, from Bosnia Herzegovina/Serbia, is Advisor on Combating Racism and Xenophobia for the Organization for Security and Co-Operation in Europe. Speaking at the opening of the forum last night she said the biggest challenge in Europe today is the merging of anti-immigrant feelings with racism. There is a great need to support civil society organizations.
Lord Paddy Ashdown, politician, diplomat and author, noted that p
ower is shifting to the Internet, global finance, and satellite broadcasting which are outside the rule of law or accountability; and economic
power is shifting from the West to the East.
"It is the end of 400 years of Western hegemony."
He warned against the contagion of populism; and he stressed that "the rule of law is the first thing that must be in place." Drawing on his own experience from growing up in Northern Ireland, he called history "the most political issue in any reconstruction." Who tells the story? And how is it handed down generationally? Language is important.
Don't fall into the trap of saying we are fighting for Western values. We are fighting for universal values. Above all, "Get involved. Don't leave it to someone else."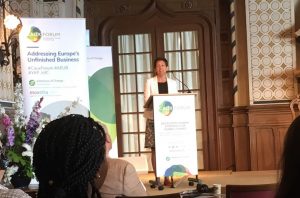 Barbara Hinterman, Secretary General of IofC Switzerland, stressed the role of silent reflection and storytelling as two key ingredients of the Caux experience.
 "It can be a trigger for honest conversation and developing trust."
Today we launch into a variety of training tracks.