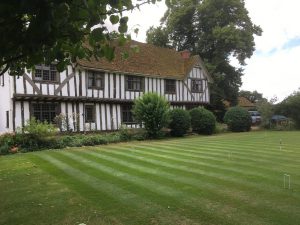 A highlight of this week was a visit to Hill Farm, about an hour and a half drive from my sister's home in Wenhaston, Suffolk.  My mother worked as a land girl there during World War II. In the mid-fifties our family spent several years in a cottage on the estate which was owned Peter Howard, the journalist and leader of MRA (now IofC). I had not set foot on the farm for sixty years and looking across the rolling fields many memories came flooding back.
The farm was a perfect playground for my brother and sister and me. We rode the massive Suffolk Punch draught horses and the milk wagon down to the gate, burrowed tunnels into the haystacks, helped with the harvesting and sledded on the slopes. We attended the school in the neighboring town of Hadleigh.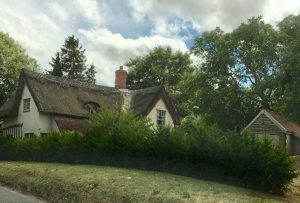 The Howard children, Philip, Anne and Anthony were in their late teens and early twenties. They were like older cousins to us and they involved us in many games and pranks. They taught us how to play cricket. Our cottage, "Corrie," lies at the foot of a hill below the main house. I recall Philip climbing in our bedroom window and reading The Hobbit.
The main house itself is a 16th Century listed Tudor building with an unspoiled view across the hills. Today it serves as a holistic "inner guidance" retreat center run by Jo and Dominic De Rosa. They specialize in an approach to addiction which they call "quantum sobriety," based on meditation and Jo's own experience of going from addiction to freedom. As well as five-day retreats they offer monthly meetings, online courses and day workshops. They offer healthy food, much of it grown in the grounds which Dominic manages.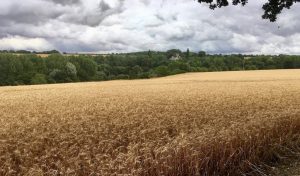 Back in Wenhaston, there is ample evidence that my sister has inherited my mother's green thumb. Every inch of her garden is bursting with produce and flowers, and my brother-in-law tends their flourishing allotment a short walk away in the village. However, the extended period of unusual heat and lack of rain has turned everyone's lawns brown.
On Friday we head north to begin an extensive driving tour. First stop is Leeds, Yorkshire, to visit our friend Peter Vickers who is godfather to our eldest son, Neil.