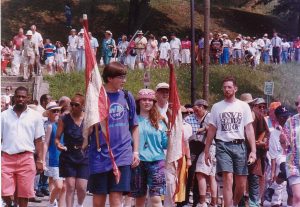 Twenty-five years ago, Richmond took its first steps toward publicly acknowledging its traumatic history of slavery and racial oppression. On June 18, 1993, area residents of all backgrounds supported by representatives of 50 other cities and 20 countries walked together
(video in two parts) to mark sites previously too painful or shameful to remember.
In organizing the walk as part of an international forum, Hope in the Cities, the Richmond-based program of Initiatives of Change (IofC), and its allies issued a call for honest conversation on race as an indispensable step in building a healthy community. They were insistent that this required the full participation of all sectors. And they held up a bold vision: in the words of Ben Campbell of Richmond Hill, "the place of greatest pain might be the place where healing could begin" for America. Significantly the organizers called on all stakeholders to accept the challenge of personal responsibility by modeling the necessary change as the foundation for this vision.
From the outset, the movement has been distinguished by courageous action by many individuals willing to step outside of their comfort zones. In an early example, Collie and Audrey Burton, two black community activists reached out to A. Howe Todd, the white senior assistant senior city manager – a man they suspected of racial bias. The impact of that friendship was such that someone exclaimed, "What has happened to Howe Todd? Whenever I went into a meeting with him, I felt the cards were stacked, that the decisions were already made. Now he really listens to what I have to say."
This citizen led, organic initiative has engaged hundreds of Richmonders in constructive dialogue across traditional divides and it has inspired and mobilized institutions across the region. It led to the marking and development of the historic Slave Trail, and Hope in the Cities facilitated Richmond's relationship with Liverpool, UK, and the Republic of Benin and the placing of the Reconciliation Statue. While there are various opinions about the appropriate memorialization of the slave market site and African Burial Ground, there is now broad consensus on the importance of the project. Edward Baptist, author of The Half Has Never Been Told: Slavery and the Making of American Capitalism, remarked, "I see in Richmond a city that is engaging with its history in a potentially transformative way. There is a long way to go, but even further in other places." Last year a team traveled from Selma, Ala, to learn from this city's experience. Community leaders from a dozen states have taken part in IofC's Community Trustbuilding Fellowship which lays a foundation for narrative change and relationship building.
As important as the ability to talk about our history is the new determination to address its legacy. Together with the Virginia Center for Inclusive Communities, Hope in the Cities partnered with Dr. John Moeser to conduct more than 80 presentations using census data and historical narrative to demonstrate how racialized policies created and perpetuate concentrated poverty. This gave impetus to the creation of the city's first anti-poverty commission and the Office of Community Wealth Building.
Noting this sustained effort, the W.K. Kellogg Foundation selected Richmond as one of 14 locales nationally to implement "Truth, Racial Healing & Transformation." Now the Richmond region has the opportunity to take its 25-year commitment to honest conversation and healing history to a deeper level. Through cross-sector collaboration, Initiatives of Change is working with its partners to demonstrate that racial equity benefits everyone.
With a talented and committed new generation of individuals now stepping into leadership roles, it is time for me to transition to a new phase of life. My family came to Richmond in 1980, never imagining that we would be here nearly 40 years later. We've had the honor of working with people from many walks of life who are building a new future for a city scarred by a history of slavery, civil war, and discrimination. It has been our privilege to accompany them and to learn from them.
The world's cities face increasingly urgent issues of diversity and inclusion. I look forward to sharing Richmond's ongoing story as an encouragement and practical framework for concerned citizens everywhere who are striving to build trust across historic divides.